RTR/GRP piping systems have many important advantages over steel piping, including corrosion resistance, long life-time, low maintenance, etc. During its life-time RTR/GRP piping seldom shows any failures. The failures which do occur are mostly in the commissioning phase. It is no surprise, then, that Aramco seek to overcome this hurdle.
Failures can usually be attributed to the installers, particularly on account of a lack of proper knowledge regarding RTR/GRP procedures and a lack of skills and experience.
Some five years ago a worldwide group of end-users, pipe manufacturers and contractors decided to tackle this problem, and jointly with DNV drew up a competence profile for every RTR/GRP specialist working in the field.
The requirements set out in the competence profiles are very demanding, but the overall aim is simple: a reduction of installation failures and consequently reducing enormous installation costs.
The GRPcenter training courses for these GRP specialist do meet these requirements.
After the course the GRP specialist have to perform a written (closed book) and a practical examination. The examination will be performed by DNV.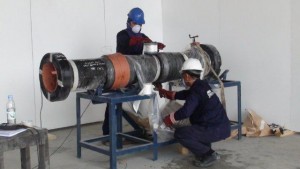 Bonder
A Bonder is a skilled worker, specialised in jointing RTR/GRP pipes, whose competences are certified in respect of one or more different types of joints (e.g. laminated joints , adhesive joints, threaded joints, "O"-rings, locking keys etc.)
Spool builder
A spool builder is a certified bonder who is additionally certified to assemble the RTR/GRP spools and fabricate RTR/GRP (mitered) Tee's and mitered Elbows
Pipe fitter
A Pipe fitter is certified to lay out, assemble, build, maintain and repair piping systems.
Supervisor
A certified supervisor monitors and carries responsibility for the execution of the work done by the bonders, spool builders and pipe fitters.
Inspector
A certified inspector independently monitors the installation of RTR/GRP piping systems. He controls and verifies that bonders, spool builders, pipefitters, supervisors and other personnel have performed in compliance with the job specifications.